Spring rolls are processed according to many different ingredients commonly found such as shrimp, meat, crab… In which, vegetarian spring rolls are made from vegetables and tubers which are the favorite dishes of vegetarians on special days. Let's see how to make vegetarian spring rolls!
Ingredients:
The ingredients to make the most delicious spring rolls include quite a few things, and depending on each person's preferences, we can change the ingredients to suit our taste. However, how to make delicious vegetarian spring rolls depends on the ingredients a lot. The most standard ingredient recipe for spring rolls is:
| | |
| --- | --- |
| Nguyên liệu | Số lượng |
| Green beans | 50g |
| Taro | 50g |
| Potato | 1 piece |
| White tofu | 1 piece |
| Carrots, cassava roots | 1 piece |
| Mushrooms | 3 – 4 |
| Green onions | 50g |
| Rice paper roll | 1 pack |
| Vermicelli | 1 pack |
| Pepper, monosodium glutamate, sugar, cooking oil, chili sauce | Custom |
Making
1. Process Materials
In order to have the most delicious vegetarian spring rolls, it is very important to fully prepare and prepare the ingredients properly. In the way to make vegetarian spring rolls that we share below, please pay attention to following each step correctly to have the best spring rolls.
Green beans: use shelled green beans, wash them with water, soak until soft, and then steamed.
Taro, potatoes, carrots, cassava roots: wash with water, scrape the outer skin. Then rinse with clean water, soak in salt, and drain. Then, use a knife to cut into small pieces, separate each type. Continue to soak in diluted saltwater, gently rub it with your hands to reduce the itch, then soak for about 15 minutes, then take it out and drain.
Mushrooms: washed, cut the root. Then put in a bowl of warm water, soak for 25 minutes. Mushrooms are soft, then cut into small filaments.
Noodles are soaked in warm water, when soft, take them out and cut them into 2-3cm pieces – While tofu is briefly washed with clean water, then put in a bowl and pureed. Onions are washed and finely chopped.
Top Pho Aurora is serving delicious Tofu Fried Golden Brown W/ Vegetable Egg Roll and Fried Tofu & Vegetable Egg Rolls With Noodles. If you love those dishs, you can make an order in our restaurant. Thank You!
2. Mix and Roll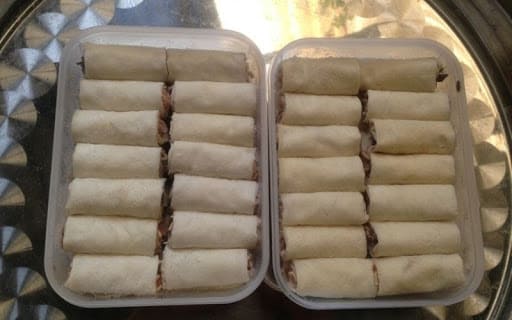 The next step in how to make vegetarian spring rolls is to mix the ingredients: Using a large clean bowl, mix the ingredients together. Add 3 teaspoons of pepper, 2 teaspoons of sugar, 2 teaspoons of powder, 2 teaspoons of seasoning, mix all the ingredients together.
Roll spring rolls: The simplest way to roll spring rolls is to use a piece of rice paper to place on the tray (you can add a little water or not, depending on the type of roll), Put the filling in the middle of the rice paper, fold the two ends and then fold them. gently wrap. Just keep rolling until the filling and cake are finished.
3. Fried Spring Rolls
Use a large deep pan or non-stick pan. Heat the pan on the stove until hot, add cooking oil to the pan. When the oil is hot, add the spring rolls one at a time. When frying, you pay attention to moderate heat, not too big or too small. When frying, pay attention to turning all sides of the spring rolls. When the fried spring rolls are golden brown, take them out on a plate with absorbent paper to drain.
4. Enjoy
So you have finished the delicious vegetarian spring rolls. Can be eaten alone or served with vermicelli, rice is great. Even more perfect, if this vegetarian spring rolls are dipped with spicy chili sauce.
With this simple way of making vegetarian spring rolls, the dish will have the sweetness of the roots and spices blended together, a little more crispy due to golden frying, plus the spicy flavor of the chili sauce that has created the dish. very attractive and rich. Even if it's not a vegetarian holiday, you can still make this vegetarian spring roll for a weekend treat with family and close friends.