Delicious, novel vegetarian spring rolls will make the family's breakfast more attractive. Let's go to the kitchen and prepare this delicious vegetarian dish for your family today!
Ingredients: (For 2 People)
Vermicelli – 1 kg
White tofu – 100 gr
Taro – 200 gr
Beef rice paper – 40 pieces
Cucumber – 2
Price – 200 gr
Vegetables – 300 gr
Onions – 1 plant
Tofu – 1 piece
Green beans – 50 gr
Mushrooms – 50 gr
Carrots – 50 gr
Roasted peanuts – 50 gr
Sugar – 2.5 tablespoons
Vegetarian seasoning – 3 teaspoons
Pepper – 1 teaspoon
Cooking oil – 350 ml
Salt – 2/3 teaspoon
Vegetarian fish sauce – 3 tablespoons
Lemon juice – 1 tablespoon
Instructions:
1. Process Materials
Peel the carrots, cut them into strips. Mushrooms soak in water for about 15 minutes to bloom, cut off the legs and then cut the fibers. Take some chopped carrots to make fish sauce.
Peeled cucumber, grated. All kinds of herbs, washed and dried. Prepare a bowl of clean water, add about 1 tablespoon of salt, put the chopped taro in and soak it to remove the acrid sap and not darken. Cut the potatoes to where you put them in the bowl.
Soak for about 15-20 minutes to remove all the plastic. Rinse with water, drain and cut into small pieces. You can dry them to fry them or leave them whole.
Scallions are cleaned and cut into small pieces. Garlic and chili cleaned, minced. Soak green beans in water for about 1-2 hours until soft, then cook until cooked.
Put the pan on the stove, add about 2 tablespoons of cooking oil, turn on the medium heat, when the oil is hot, fry the taro until crispy and then take it out.
2. Mix Vegetarian Spring Rolls
Put the deep fried potatoes in a bowl, add shredded carrots, steamed green beans, black fungus, tofu, season with 2/3 teaspoon salt, 2 teaspoons seasoning and 1 teaspoon pepper.
Crush peanuts into a bowl.
Mix well.
3. Spring Roll
Place the rice paper on the table, scoop 1 tablespoon of the filling mixture into the edge of the rice paper, slowly roll the spring roll so that the rice paper covers the filling.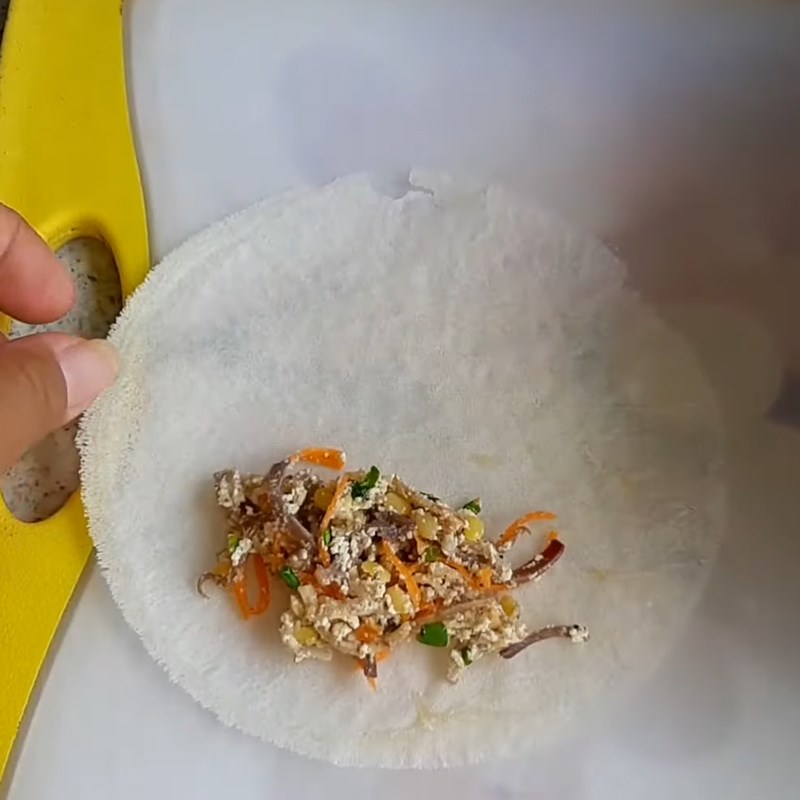 4. Fried Spring Rolls
Put the pan on the stove, cook on medium heat, add about 300ml of cooking oil. When the oil starts to boil, add the fried spring rolls until golden brown on all sides.
5. Making Fish Sauce
You mix the vegetarian fish sauce with the ratio of 3 tablespoons of vegetarian fish sauce, 2 tablespoons of sugar and 2 tablespoons of filtered water.
Put the mixture on the stove and cook until it comes to a boil and thickens. Wait for the fish sauce to cool completely, then add minced garlic and carrots, add 1 tablespoon of lemon juice and stir well.
6. Finished Product
Noodles are arranged on a plate, add spring rolls and serve with raw vegetables, grated cucumber and sweet and sour fish sauce.
Delicious vegetarian spring roll vermicelli with delicious crispy spring rolls, spicy sour and spicy fish sauce, delicious crispy raw vegetables is really attractive, isn't it? Enjoy now!
---
Crispy spring rolls are delicious and make anyone admire.